The way forward for your business?
Establish an operation in Australia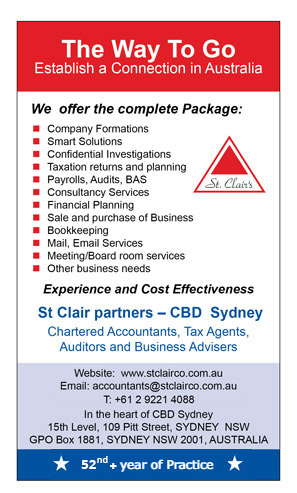 Australia is back into growth phase.
If you want to establish an Australian operation for your business, we can provide a custom service from an Australian perspective. Our expertise makes the entire process simpler and more cost-effective.
We can assist with the necessary statutory and other formalities, provide all accounting, taxation and business consultancy services. In addition, we offer on-going office services to manage local mail, payments to suppliers and personnel records. Our fully-equipped conference room and interview offices, are also available to allow you to conduct local meetings.
We liaise with specialists in other professions (customs agents, real estate agents, lawyers etc) to ensure your local operation runs smoothly. And of course, we work with your existing advisers in your own jurisdiction to ensure that everybody's efforts are co-ordinated for your benefit and towards your goals.
In addition, we provide local knowledge and advice to help you create and develop your Australian business. At every step, we work with you.
In this way, we ensure you are provided with a total solution that is specifically suited to your special requirements, and enables you to conduct local operations with a minimum of effort.
A Business One Stop Shop